September 16th, 2019
Rothy's Puts Best Foot Forward with Centric SMB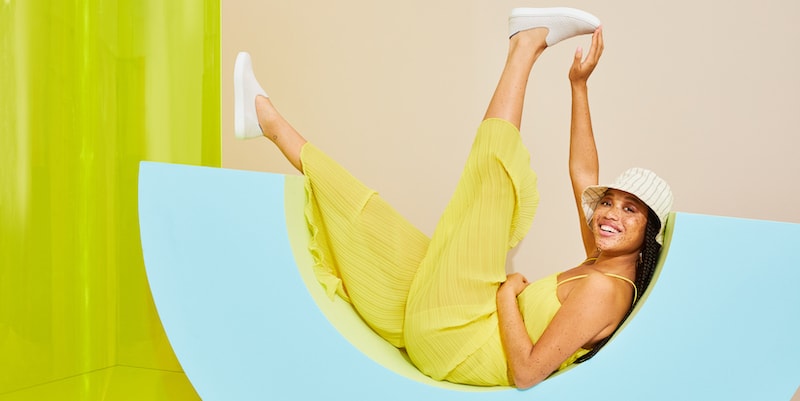 CAMPBELL, Calif., 17 September 2019 – Rothy's, the San Francisco-based company creating beautiful, comfortable shoes from recycled plastic water bottles, has selected Centric Software's Product Lifecycle Management (PLM) solution for emerging enterprises, Centric SMB. Centric Software provides the most innovative enterprise solutions to fashion, retail, footwear, outdoor, luxury and consumer goods companies to achieve strategic and operational digital transformation goals.
Founded in 2012, Rothy's embraces sustainability in every aspect of its business: from materials to production to worker welfare. Rothy's transforms recycled plastic water bottles into stylish shoes for women and kids using a seamless knitting process that minimizes waste, repurposing over 34 million discarded bottles to date.
Selling over one million pairs in 2018, Rothy's generated $140 million in revenue last year and is rapidly scaling its operations and team. As Rothy's expands its retail and international presence, managing product development using email, filesharing, chat tools, an existing basic PLM system and spreadsheets became unsustainable.
"It's organized chaos," says Lauren Taflinger, Director of Production at Rothy's. "We own and operate our factory in China, where most communication happens on Wechat, and our San Francisco team use email and Dropbox to share files with the China team. We had a close call with the accidental deletion of a shared folder, and we realized we needed a more secure and central resource where people could access up-to-date information."
Several Rothy's team members had positive previous experiences with Centric Software, and when assessing PLM solutions, Centric SMB, Centric Software's cloud-based PLM solution for small to mid-size enterprises, emerged as a clear winner. Rothy's will implement Centric SMB and three of Centric's innovative PLM mobile apps, Capture It, Inspiration and Sample Review.
As Taflinger notes, "Centric SMB is user-friendly and intuitive. It's perfect for growing businesses, and we can upgrade to Centric 8 PLM easily. The Centric team members we're working with understand our needs and are informative, supportive and flexible. We plan to integrate our PLM and Enterprise Resource Planning (ERP) systems, and Centric has an excellent record of successful integration projects."
"We're very excited," she continues. "There's a great sense of comfort in having one place for product data and a digital workspace where we can collaborate faster, streamline communication, save time spent searching for information and analyze our progress."
"We're delighted that Rothy's has selected Centric SMB," says Chris Groves, President and CEO of Centric Software. "Rothy's is in an exciting phase of growth, and we look forward to working with them to create innovative and sustainable solutions for the challenges of tomorrow."
Rothy's (www.rothys.com)
Rothy's creates chic, lasting, endlessly wearable products with as little environmental impact as possible. Redefining expectations of comfort, style and sustainability, Rothy's gives life to discarded plastic water bottles and transforms them into beautiful shoes. Considering every step of production, Rothy's owns and operates its state-of-the-art production workshop. Rothy's yarn is made from recycled PET plastics, and its proprietary 3D knitting process significantly reduces material waste.  Founded in 2012, the company has grown to over 500 employees and repurposed 34 million water bottles to date. In 2018, Rothy's sold 1 million pairs of shoes and generated $140+ million in revenue.
Centric Software (www.centricsoftware.com)
From its headquarters in Silicon Valley, Centric Software provides a Digital Transformation Platform for the most prestigious names in fashion, retail, footwear, luxury, outdoor and consumer goods. Centric's flagship Product Lifecycle Management (PLM) platform, Centric 8, delivers enterprise-class merchandise planning, product development, sourcing, quality and collection management functionality tailored for fast-moving consumer industries. Centric SMB provides innovative PLM technology and key industry learnings for emerging brands. Centric Visual Innovation Platform (VIP) offers a fully visual, transformative experience via large touch-screens and mobile devices, revolutionizing group decision making and creative collaboration while dramatically condensing time to market and product innovation. Centric Software is majority-owned by Dassault Systèmes (Euronext Paris: #13065, DSY.PA), the world leader in 3D design software, 3D Digital Mock Up and PLM solutions. Centric Software has received multiple industry awards and recognition, including being named by Red Herring to its Top 100 Global list in 2013, 2015 and 2016. Centric also received various excellence awards from Frost & Sullivan in 2012, 2016 and 2018.
Centric is a registered trademark of Centric Software. All other brands and product names may be trademarks of their respective owners.