July 20th, 2022
Centric Software Wins Frost & Sullivan's 2022 Global PLM Software and Innovative Solutions Competitive Strategy Leadership Award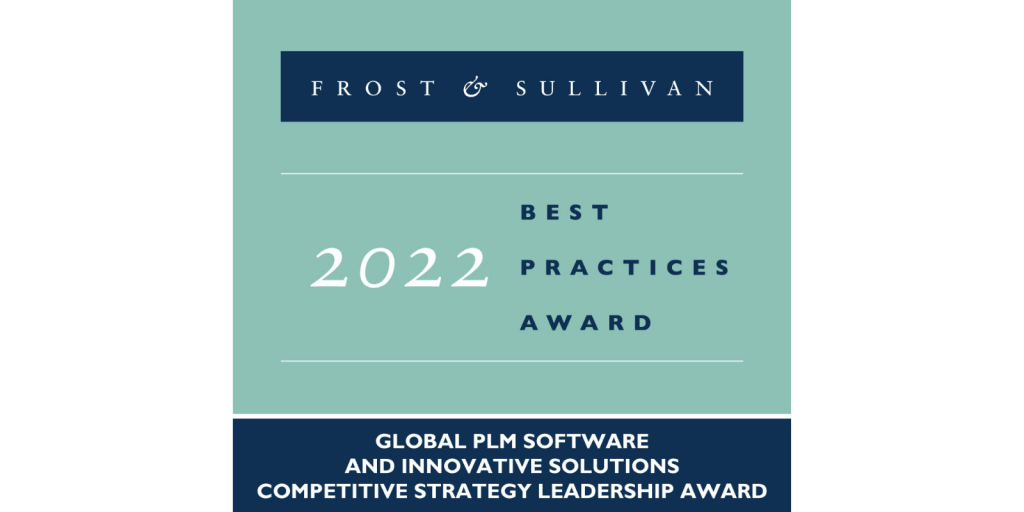 Leading consultancy recognizes how Centric Software's market-led solutions bring value to consumer goods companies, particularly retailers.
CAMPBELL, Calif., July 21, 2022 – Following extensive analysis of Product Lifecycle Management (PLM) solutions for the consumer-packaged goods, retail and fashion industries, top consultancy firm, Frost & Sullivan, awards Centric Software the 2022 Global PLM Software and Innovative Solutions Competitive Strategy Leadership Award. Centric Software® provides the most innovative enterprise solutions to plan, design, develop, source and sell products such as apparel, footwear, sporting goods, furniture, home décor, cosmetics, food & beverage, consumer electronics and luxury to achieve strategic and operational digital transformation goals.
The Frost & Sullivan Best Practices Awards acknowledge companies at the forefront of their industries that have accomplished innovative or disruptive breakthroughs. The Global PLM Software and Innovative Solutions Competitive Strategy Leadership Award recognizes the company with a stand-out approach to responding to market needs, bringing value to the market via technology and expertise expansion and a superior customer experience. Frost & Sullivan previously recognized Centric's product leadership, innovation and customer value in 2012, 2016, 2018 and 2021.
Frost & Sullivan highlights Centric Software's partnerships with customers and continuous success in developing new and innovative capabilities to expand its PLM scope. This is exemplified by Centric's 2021 acquisition of Armonica, a cloud-native, omnichannel-era solution for retail planning. Renamed Centric Planning, this solution can be combined with Centric PLM® and the Centric Visual Boards product family to provide highly visual and data-driven end-to-end product ideation, planning, development and launch.
"The Armonica/Centric combined solution empowers clients to react to sudden changes, specifically with the ability to rapidly re-forecast and drive optimal Open to Buy, Allocation and Mark Down decisions," says Samantha Fisher, Best Practices Research Analyst at Frost & Sullivan. "This digital transformation will provide users enormous value via business planning, visualization and execution based on real-time planning versus client feedback throughout the product lifecycle."
Centric's customer partnerships also figure prominently in Frost & Sullivan's decision. The award report notes that Centric avoids innovating in a vacuum, working closely with customers to respond to real market-driven needs and industry concerns, such as improving margins, reducing waste and executing toward sustainability goals. It pays particular attention to Centric's customer service, 'PLM for All' philosophy and uniquely configurable solutions. As a result, Centric reports a 95% customer satisfaction rate and 99% customer retention.
"Centric Software is uniquely prepared for today's demands and exceptionally positioned for tomorrow's needs," adds Fisher. "The company's clear strategic vision and execution underpin its partner of choice status and sustainable growth for years to come."
"We are honored to once again receive an award from Frost & Sullivan," says Chris Groves, President and CEO of Centric Software. "This award recognizes Centric's innovation in spaces including PLM and retail planning, but most importantly it highlights our commitment to 620+ customers. We work closely with leading consumer goods players to develop practical solutions for businesses of all sizes that arm them with the right technology for today and tomorrow's disruptions and power their growth. This will continue to be our core guiding principle."
Learn more about Centric PLM 
Frost & Sullivan (http://www.frost.com)
Frost & Sullivan is the Growth Pipeline Company™. We power our clients to a future shaped by growth. Our Growth Pipeline as a Service™ provides the CEO and the CEO's growth team with a continuous and rigorous platform of growth opportunities, ensuring long-term success. To achieve positive outcomes, our team leverages over 60 years of experience, coaching organizations of all types and sizes across 6 continents with our proven best practices. To power your Growth Pipeline future, visit Frost & Sullivan at http://www.frost.com.
Centric Software (http://www.centricsoftware.com/)
From its headquarters in Silicon Valley, Centric Software® provides a Product Concept to Consumer Digital Transformation Platform for fashion, retail, footwear, luxury, outdoor, consumer electronics and consumer goods including cosmetics & personal care and food & beverage. Centric's flagship Product Lifecycle Management (PLM) platform, Centric PLM®, delivers enterprise-class merchandise planning, product development, sourcing, quality and product portfolio optimization innovations specifically for fast-moving consumer industries. Centric's Visual Boards offer highly visual digital board experiences for collaboration and decision-making. Centric Planning is an innovative, cloud-native solution powered by the Armonica platform, that delivers an end-to-end retail planning process designed to maximize retail business performance. Centric Software pioneered mobility, introducing the first mobile apps for PLM, and is widely known for connectivity to dozens of other enterprise systems including ERP, DAM, PIM, e-com, planning and more as well as creative tools such as Adobe® Illustrator and a host of 3D CAD connectors. Centric's innovations are 100% market-driven with the highest user adoption rate and fastest time to value in the industry. All Centric innovations shorten time to market, boost product innovation and reduce costs.
Centric Software is owned by Dassault Systèmes (Euronext Paris: #13065, DSY.PA), the world leader in 3D design software, 3D digital mock-up and PLM solutions.
Centric Software has received multiple industry awards and recognition, including being named by Red Herring to its Top 100 Global list in 2013, 2015 and 2016. Centric also received various excellence awards from Frost & Sullivan in 2012, 2016, 2018, 2021 and 2022.
Centric Software is a registered trademark of Centric Software Inc. All other brands and product names may be trademarks of their respective owners.