What is Centric PLM?
A 'single source of the truth' for all of your product related data. A hub for collaboration and idea sharing. An easy to use interface that boosts productivity. Discover the magic of Centric PLM.

Product Lifecycle Management (PLM) is the backbone technology that drives all product related activities from concept to retail, enabling digital transformation for brands, retailers and manufacturers.
Challenges when using no PLM or an outdated PLM.
Companies make many products at once but with people working across different offices, countries and timezones, they need a tool to collaborate.
Keeping track of all this product information, and who does what, can be a very difficult task.
People try to work with software like excel, email, dropbox, servers, powerpoint…but this generally leads to chaos with masses of wrong, missing and duplicate info.
On top of this stress, consumers are demanding more choice; companies need to bring more SKUs and products to market faster.
How Centric PLM can help:
Centric PLM combines all product related data into one easy to use solution.
Teams collaborate all over the world and find the information they need.
This means fewer errors, more time saved, time to market reduced and margins improved.
….and much happier people!
What makes Centric PLM special?
First Out of the Box Configured Cloud PLM Solution For Fashion and Consumer Products with industry best practices built-in
Industry's First and Only Enterprise Mobility Applications Suite with 15 apps for iOS and Android
Distributed, High Scale Skyline Architecture supporting 10,000 users and years worth of active data
Only Configurable SMB Solution for fashion, apparel and footwear
Revolutionary Visual Innovation Platform of industry first PLM-driven digital touch boards
Leading brands, retailers and manufacturers use Centric PLM as the backbone of their business.
Centric solutions have an out-of-the-box (OOTB) approach coupled with our Agile DeploymentTM Methodology. Implementation time and costs are reduced by up to 50%.
Centric solutions are completely personalizable so we can work with any business, no matter their needs, without any coding.
With our heart in Silicon Valley, innovation is in our DNA. There's no risk of having an outdated system with Centric PLM as we have 2 major and 2 minor releases per year, as well as a number of mobile apps.
Our cloud-based (SaaS) solution means low up-front costs, no hardware to buy and install and no IT resources to hire. The ultra fast implementation means a rapid time-to-value.
How do you use Centric PLM?
An intuitive and easy-to-use interface
Centric's platform is designed to be easy-to-use with minimal formal training. With a layout that is instantly familiar to users, inputting and outputting information is easy.
Make Centric your own with great branding and personalization options
Dashboards and views allow you to digest information at a glance
Mass editing features to minimize clicks and promote adoption
Digital breadcrumbs trails speed navigation
Information stays close-by for quick access when needed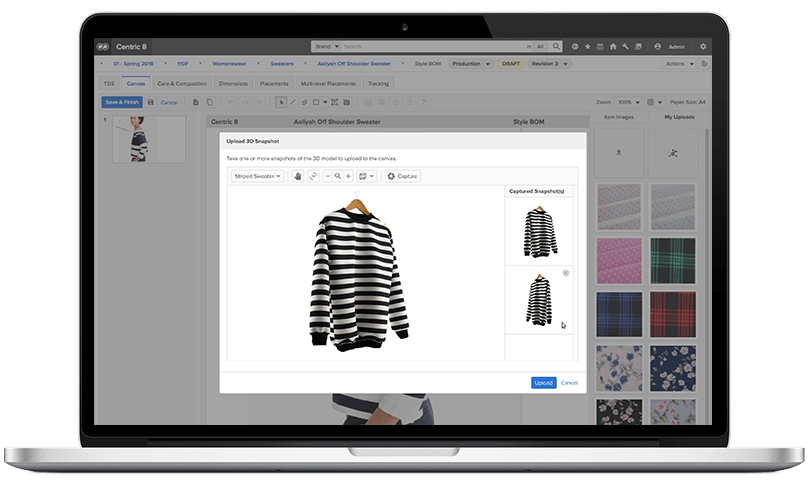 Flexible, configurable and spanning the entire product lifecycle process, there are many options to suit your way of working and to get started quickly.
Capture inspiration anywhere. Innovate everywhere.
With the growing threat of competition, the complexities and risks of international expansion, as well as constant changing digital and social channels, brands, manufacturers and retailers must work differently. Mobility helps capture information outside of the scope of traditional systems introducing unprecedented agility and real-time reactivity without being chained to a desk. Centric Software provides innovative mobile solutions to harness the power of design and development, streamline the supply chain and empower teams to bring great products to market faster.
View Mobile Apps
Over 360 retailers, brands and manufacturers trust Centric Software for their digital transformation initiatives.
Want to know more about Centric PLM?